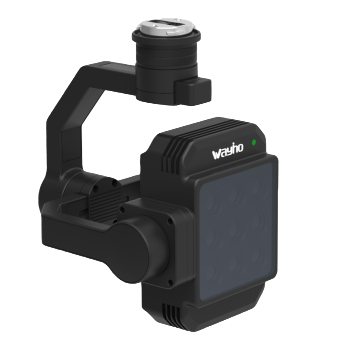 Airborne HD spectral camera MAX-S800
MAX-G800 Airborne Spectral Camera is developed and made by Shenzhen Wayho Technology Co.,Ltd. It is mainly used in airborne applications in the fields of ecological environment, precision agriculture, and resource exploration, which need fast, accurate and large-scale acquisition of spectral information. This product covers spectral range from 400nm to 1000nm, captures real-time video over seven spectral channels and one RGB channel. It can also achieve online spectral analysis, so to be suitable for many applications which need quick decision as to abnormal situations.
Essential Parameter
Technological Superiority
Application Area
MAX-S800

Installation Mode

Detachable

Angular Vibration Range

±0.01

Controllable Range

Pitch:-120° - +30°

Structure Allowable Range

Yaw: ± 320°, pitch: - 120° to + 30°, roll: - 55° to + 55°

Maximum Control Speed

90°/s

Camera Parameters

Spectral Bands

7+RGB

Spectral Range

(Standard)450nm、550nm、650nm、720nm(narrow band)、750nm(narrow band)、800nm、850nm

(Optional)410nm、490nm、530nm、570nm、600nm、660nm、680nm、720nm、750nm、780nm、900nm

Image Sensor

1 / 2.9-inch CMOS, global shutter, 1.55M pixels

1440 * 1080

Bit Depth

12bit

Focal length f = 5.0mm, aperture F/2.0

FOV

HFOV: 52.8°,VFOV: 40.9°

Typical Spatial Vision

120*89m@h=120m

Ground Sample Distance(GSD)

8.28cm@h=120m

Preview Frame Rate

Up to 20fps (full channels), supporting simultaneous preview and capture.

Triggering capture, up to 1fps (full channels)

Trigger Modes

Manual mode, timer mode, overlap mode

Data Format

16bit TIFF

Calibration and Correction

Spectral calibration, radiation calibration, illumination correction, distortion correction

Storage

MicroSD card, standard capacity of 128G, the transmission speed requires class 10 or higher, mode U3 or higher, and video speed V30 or higher.

Device Interfaces

DJI X-port, 6-pin COMM port

Flight Control

UAV Platforms

Support DJI X-Port, perfect match of DJI Matrice series ( M200 V2/M210 V2/ M210 RTK V2/ M300 RTK)

Other Flight Platforms

Customizable as to requirement, to support other UAV platforms (fixed-wing, rotary-wing, and so on)

Control Mode

DJI Pilot App

Capture Mode

No need to hover, real-time capture.

Other Parameters

Dimensions (W x H x D)

Camera w/ gimbal: 129 x 145 x 177mm, DLS: 75 x47 x 31mm

Weight

Camera w/ gimbal: 780g, DLS: 54g

Operating Temperature

-20℃ to 50℃

Storage Temperature

-20℃ to 60℃
● Eight parallel channels, providing rich image-spectral information.
● Configurable spectral band choice, providing strong data basis.
● Multiple spectral channels and one RGB channel.
● High image quality with resolution up to 1440 * 1080.
● High frame rate up to 20fps.
● Real-time spectral video capturing and transmitting, on-line spectral analysis.
● High-precision radiation calibration, Real-time ambient light correction.
● Perfect match of DJI Matrice series drones, Plug and Play.
● Agriculture
● Ecological environment
● Land resources
● Industry
● Science
Data Download